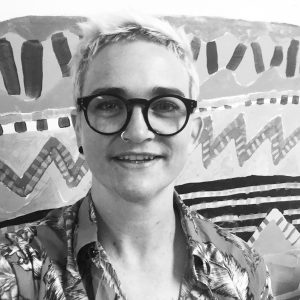 A multi-disciplinary, queer artist, Tarzan Jungle Queen blends design, photography, screen printing and film to create pieces focused on the interrogation, deconstruction, and reconstruction of the concepts of 'the self', gender, sexual identities, and environmental topics.
Tarzan runs their own Graphic Design and Screen Print business 'Tarzan Design Jungles', while also working at Darwin Community Arts as the Marketing Manager //  Studio & Gallery co-Manager. For many years Tarzan was a facilitator at Free Space Studio (Arts Access Darwin). They also work regularly at Charles Darwin University as the Print Technician, assisting students in the screen print studio.
In November 2017 Tarzan headed to Yogyakarta for 'Asia in Darwin'. Where they created a mural alongside some of Darwin and Yogyakarta's finest artists. They have been able to exhibit their photographic essays, paste-ups, and experimental videos both locally and Internationally.
This year Tarzan worked on MANIFESTA FEMINISTA a short queer film! The film premiered at feminisme en fête a women's art festival in Lille France. 'The Contiguity of Totalisation' is the result an exciting collaboration with Matthew van Roden and Koulla Roussos. Where the three created a short queer film for the 2018 Bienalle of Australian Art (BOAA).